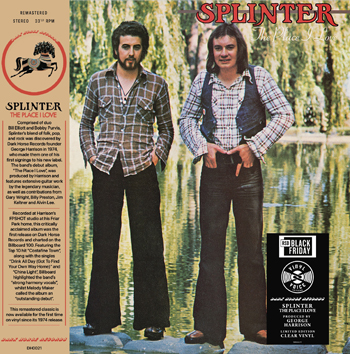 Label: Dark Horse Records
Format: LP

Comprised of duo Bill Elliot and Bobby Purvis, Splinter's blend of folk, pop, and rock were introduced to Dark Horse Records founder George Harrison in 1973. Harrison was quick to spot their potential and made them one of the first signings to his new label. The band's debut album The Place I Love was produced by Harrison and features extensive guitar work by the legendary musician, as well as contributions from Billy Preston, Jim Keltner, and Alvin Lee (Ten Years After) and Gary Wright (Spooky Tooth and "Dream Weaver.") One of the earliest recordings to be made at Harrison's FPSHOT studio in his Friar Park home, this critically acclaimed album was the first to be released on Dark Horse Records and charted on the Billboard 100. Billboard highlighted the band's "strong harmony vocals," whilst Melody Maker called the album an "outstanding debut." Includes the hit record "Costafine Town," along with the singles "Drink All Day (Got to Find Your Own Way Home)" and "China Light," this remastered classic is now available on vinyl for the first time since its 1974 release. Remastered and pressed on transparent clear vinyl with reproduced gatefold artwork and an OBI strip

Side One 1. "Gravy Train" 2. "Drink All Day (Got to Find Your Own Way Home)" 3. "China Light" 4. "Somebody's City" Side Two 1. "Costafine Town" 2. "The Place I Love" 3. "Situation Vacant" 4. "Elly-May" 5. "Haven't Got Time"