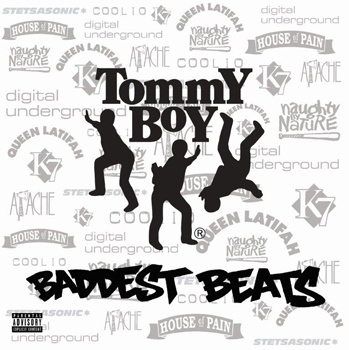 Label: Tommy Boy Music, LLC
Format: LP

Tommy Boy Records, the legendary hip hop label founded in 1981, launched the careers of so many notable hip hop legends. Tommy Boy's Baddest Beats, available as 12" LP and a 7" Box Set features the greatest hits from Naughty by Nature, Digital Underground, Queen Latifah, Coolio, House of Pain, Stetsasonic, K7 and Apache. The package is a 140 gram black vinyl in a old style tip on full color jacket, with full color labels, shrinkwrap wrap & RSD sticker.

A1. Naughty By Nature "Hip Hop Hooray"' A2. Digital Underground "Humpty Dance (Mini Hump 7" Mix); A3. Queen Latifah "Wrath of My Madness (Single Mix)"; A4. Coolio "Fantastic Voyage (Timber Mix - 7" Edit); A5. K7 "Come Baby Come (Radio Mix)"; B1. House of Pain "Jump Around"; B2. Naughty By Nature "O.P.P."; Stetsasonic "Talkin' All That Jazz"; B4. Apache "Gangsta Bitch"; B5. Coolio "Gangsta's Paradise"