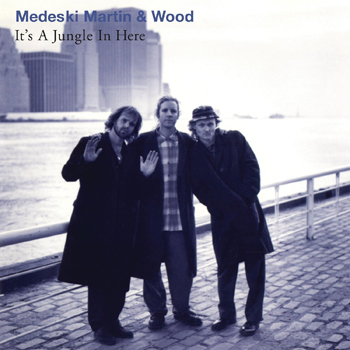 Label: Real Gone Music
Format: LP Vinyl

The trio of John Medeski, Billy Martin, and Chris Wood did as much to reinvigorate and reimagine jazz as anybody over the last three decades. Now, on the 30th anniversary of its release, Real Gone Music is proud to release the band's classic second album It's a Jungle in Here on vinyl for the very first time. That this record includes covers of tunes by John Coltrane, King Sunny Ade, and a mash-up of Bob Marley with Thelonious Monk speaks volumes as to Medeski Martin & Wood's fresh approach to the jazz tradition; but their ability to compose and perform startlingly original material is what really sets them apart. Clearwater blue vinyl pressing limited to 2500 copies, exclusive to Record Store Day!

A1. Beeah A2. Where's Sly? A3. Shuck It Up A4. Sand A5. Worms B1. Bemsha Swing-Lively Up Yourself B2. Moti Mo B3. It's A Jungle In Here B4. Syeeda's Song Flute B5. Wiggly's Way"