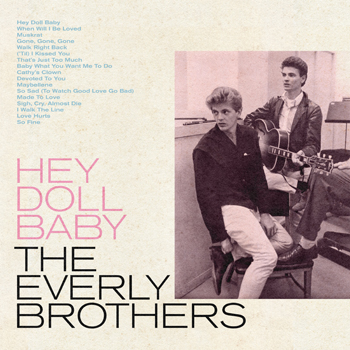 Label: Warner Records
Format: 1LP (baby blue vinyl)

1LP (baby blue vinyl). 2021 is the 65th anniversary since The Everly Brothers released their first single in 1956 ("Keep A Lovin' Me"). This new compilation is curated by Tom Petty's daughter Adria Petty in conjunction with Don Everly and Phil Everly's widow, with the objective to remind the world of the greatness of the Everlys, plus introduce the duo to a new, younger, hipster audience. This is not a "Greatest Hits" package. Whilst it does include some hits (eg: "Cathy's Clown" – their biggest selling single), the objective of this compilation is to highlight many of the lesser-known songs that are equally as good as the well-known hits. This will attract a new assessment of the band by musicians, critics and media, and appeal to a broader audience – selling to many younger fans who may not even have heard of the group. The album will be released on vinyl for RSD with a fresh, contemporary, and hip approach to the cover art. Mastered by Chris Bellman at Bernie Grundman Mastering. 17 tracks.