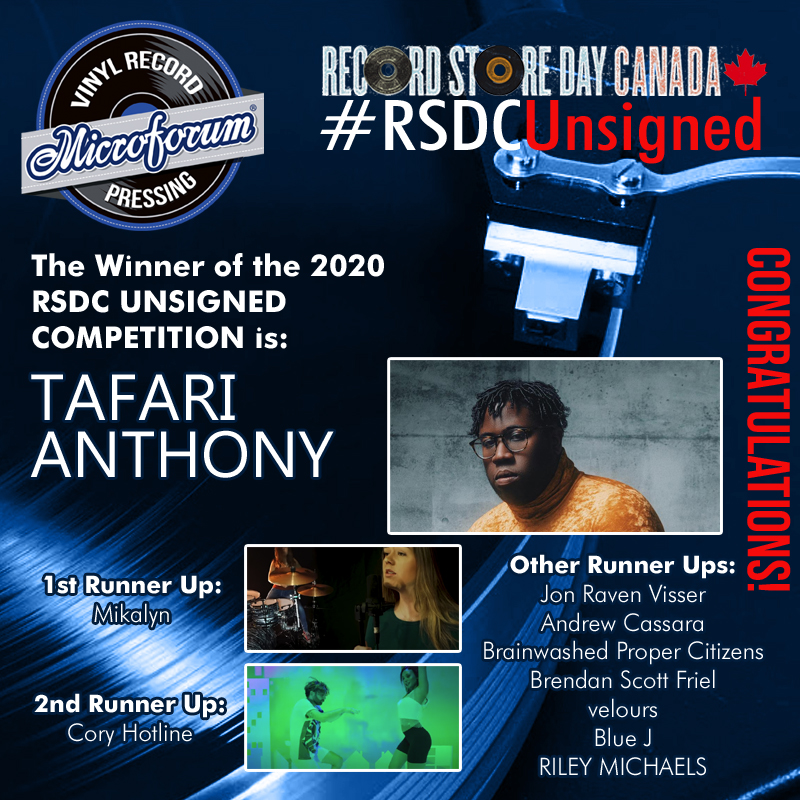 Microforum Vinyl is proud to once again be the official vinyl manufacturing partner of Record Store Day Canada. We have been supporting independent music for years and are passionate about vinyl and it's resurgence which has enabled artists and labels to thrive.
We've been pressing your favourite music on vinyl for years in all colours, shapes and sizes and we're excited to be able to offer this service for free to our competition winner for 2020.
We've received entries coast-to-coast from all over Canada with the Winner of the 2020 RSDC UNSIGNED COMPETITION going to:

Tafari Anthony!





Tafari (pronounced Ta-far-eye) Anthony is a Toronto based artist whose music blends Pop, R&B and Soul. He is an artist who embodies the spirit of the modern musician. Not just a musician, but a creator. Known for his sleek vocal tones, sultry melodies and music which oozes with personality, Tafari leaves listeners in awe - somewhat apt considering his name means "He who inspires awe".

His influences range from artists like Prince, Brandy and John Legend, to more contemporary artists like MNEK and Charlie Puth, among others. Tafari creates deeply emotional songs that resonate across generations. "All of these artists create music that is pop in its own right, but also so different from each other", shares the musician.

Having taken a break from releasing music in 2018 to focus on creating new material which explored his own personal soundscape, Tafari returned early 2020 with the release of his pop anthems, "Centerfold", "Live in a Dream" & the emotional "No Good."

Tafari has seen success with his music garnering acclaim from the likes of PAPER Magazine, Billboard, Gay Times, Earmilk and MTV to name a few. He has been nominated for a Toronto Independent Music Award and receives regular airplay on CBC Radio, with one of his singles being named one of CBC's Most Influential Songs of 2016. The singer has also performed alongside Shangela (RuPaul's Drag Race) and has performed at Toronto's Dundas Square and Massey Hall. His latest EP "The Way You See Me" was released to critical acclaim from PAPER Magazine & Billboard in November 2020.

WINNER QUOTE:

I am beyond excited to be the 2020 winner of the #RSDUnsigned competition! This is a year where I had full release plans and as an independent artist who has fully self funded this project, when the pandemic hit, I wasn't sure how I was going to continue with the releases. I had to make the decision to just keep pushing through with the releases and put the rest in the universe's hands to help me make it through. So many amazing opportunities have come my way this year, from dream press features, to dream collaborations and now being able to actualize my latest EP "The Way You See Me" to vinyl with the support of #RSDUnsigned… I am honestly just so overwhelmed and thankful! Thank you so much!