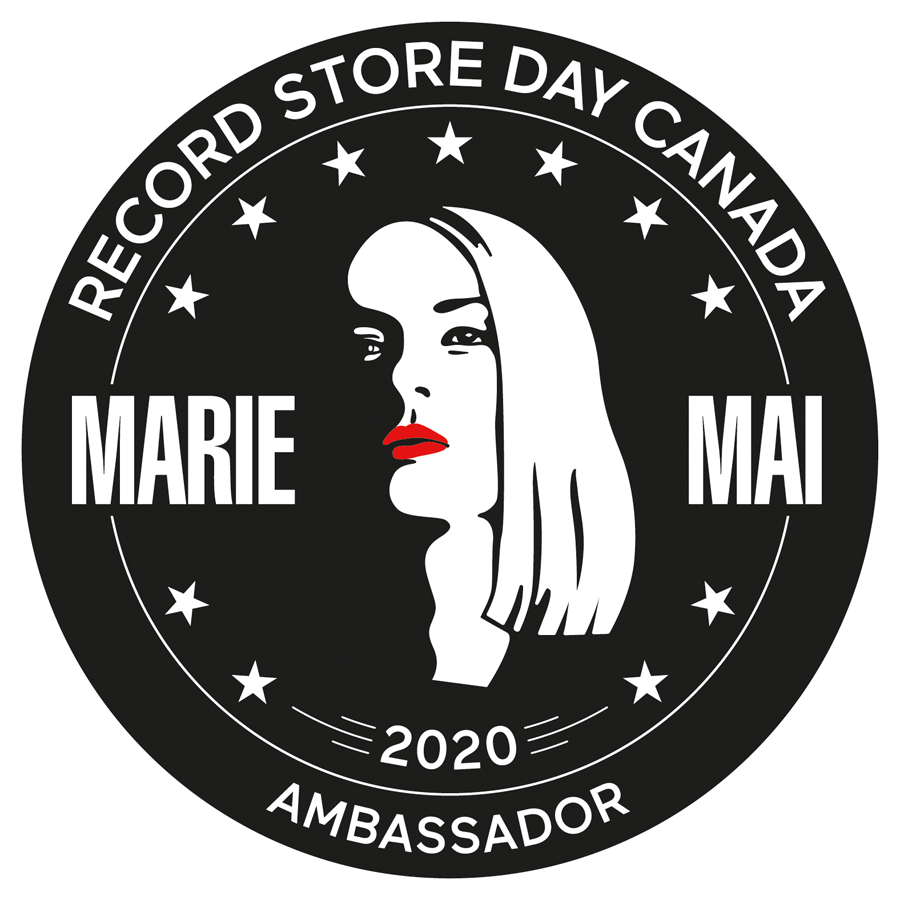 THE RECORD STORE DAY 13TH EDITION
WILL TAKE PLACE ON APRIL 18

Montréal, February 19th, 2020 - It was announced today that singer songwriter Marie-Mai has been named the Canadian ambassador of the next edition of Record Store Day, the worldwide celebration of record stores, which happens annually in April. After picking Nova Scotia rock band The Trews as ambassadors in 2019, Pearl Jam (2019, USA), Metallica (2016, USA), the organizers of Record Store Day have now asked Marie-Mai to become the first female artist and first Quebec artist to assume this role. This major event that brings together independent record stores, artists, music lovers and vinyl collectors every year will hold its 13th edition on April 18.

For the occasion, Marie-Mai will release a limited edition, numbered vinyl reprint of her latest album ELLE ET MOI. This superb orange record - which is bound to become a collector's item for fans of the singer! - will include a bonus song: Coming Through Me, the English version of Exister.



"There is something intriguing and nostalgic about holding a vinyl record in your hands, placing it on the turntable, and hearing the first notes. Senses like touch and sight can also be stimulated by music. We tend to forget it nowadays. That's what makes Record Store Day so essential.

I must admit that it's also inspiring for a francophone singer-songwriter to be asked to become the ambassador for a national celebration of music, in addition to being the first female artist to hold this title. I share this honour with all the women who turn their passion for music into the most wonderful job in the world!" - MARIE-MAI

Marie Mai is the undisputed Queen of pop in Quebec. An enormously talented singer-songwriter, Marie-Mai has dominated the Quebec live music scene for more than 16 years, with over two million fans having flocked to her live shows. With 6 albums, 5 platinum certifications, 6 tours, 15 concerts at the Bell Center, 19 #1 hits, 10 Félix Awards (the highest honour in Quebec music), including 5 for Female Artist of the Year, she has solidified her status as a force in the music industry. As a successful songwriter in both French and English, Marie-Mai has won 9 awards from SOCAN and was honoured as Songwriter of the Year in 2014.

In November, Marie-Mai launched her fashion brand .soi. The first collection of clothing, lingerie and jewelry was created in collaboration with three Quebec designers: Dailystory, Sokoloff, and wellDunn.

Leucan, the Association for children with cancer and their families, announced that Marie-Mai is officially being named Godmother of Leucan. Marie-Mai has been involved with helping children with cancer since 2017, a commitment solidified following her participation in the 40th anniversary of the Association. Over the next three years, Marie-Mai will meet with the Leucan children and families in every corner of Quebec, as part of various activities organized for them.

Inspired, well surrounded, and more confident than ever, the singer-songwriter released ELLE ET MOI in November 2018 via Spectra Musique. Across eleven songs, Marie-Mai frankly reveals part of herself, creating uncompromising melodies, with personal lyrics driven by sophisticated pop. This sixth album was helmed by British producer Oliver Som, and it features such talented collaborators as Koriass, Ingrid St-Pierre, Jean-Phi Goncalves, Tawgs Salter, and David Laflèche. Since February 2019, the artist and her musicians have been touring Quebec far and wide. They will visit Salle Albert-Rousseau in Quebec City for seven concerts soon (March 6 and 7, April 24 and 25, May 28, 29 and 30), in addition to performing at the Bell Centre on June 19! For all the tour dates, visit MARIEMAI.COM.